| Andrey and Julia Dashin's Foundation
€ 6,000 donated to the Cyprus Anti-Cancer Society
Last Thursday, 5th of February, the Andrey & Julia Dashin's Foundation donated an amount of €6,000 Euro to the Cyprus Anti-Cancer Society in support of their new annual program – "24 Hour On Call Service" for cancer patients for the year 2015.
This service allows cancer patients to receive free medical assistance at their home, without having to go to the cancer care center, 24/7. This service shall be available in Limassol as a pilot project, which the Foundation was more than glad to support. Mr. Andrey Dashin, Founder of the Andrey & Julia Dashin's Foundation, presented the cheque donation to the President of the Limassol Center, Mr. Michalis Christofides, saying that he feels that such worthy causes should be supported and he hopes that the Foundation will continue to offer its helping hand to such charitable endeavors.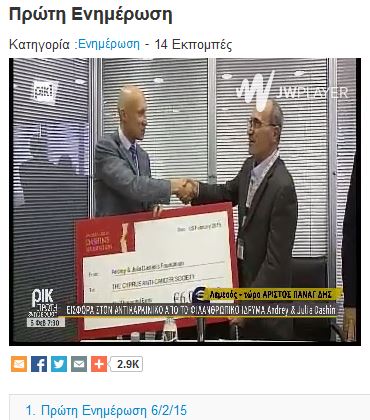 The donation was covered by reporters from CYBC, channel RIK 1, and the news have been announced to the public the following morning on Friday, 6th of February in the morning news show  – "Πρώτη Ενημέρωση":  (06/02/2015, 29:50-32:50).
The Association approached the Dashins' Foundation nearing the end of 2014 with a proposal for project support. The amount of €6,000 Euro is the amount requested for the period of one year to cover the extra running expenses for the new program, such as medical staff pay, medications, logistics and any other concurrent expenses needed to run the service 24/7. Before, the service was offered for cancer patients only during daytime hours, whilst during the night the patients did not have the option to call for professional help if such was urgently needed. However, this also was withdrawn in 2013 after the bank crisis due to lack of funds. From 2015 the association would like to restore and extend this service to be available around the clock for all cancer patients in Limassol.
The Andrey & Julia Dashin's Foundation is glad to support such an altruistic initiative and we are happy to be able to make a donation to the Association and provide the stimulus needed in order to help launch their new service as soon as possible.