| Andrey and Julia Dashin's Foundation
New push-chair for little Andriana
Last Friday, 3rd of July, the Andrey & Julia Dashin's Foundation have finally presented little Andriana Charalambous with a special pushchair, bought by the Foundation with the funds raised during "My Charity Sale" event in February 2015.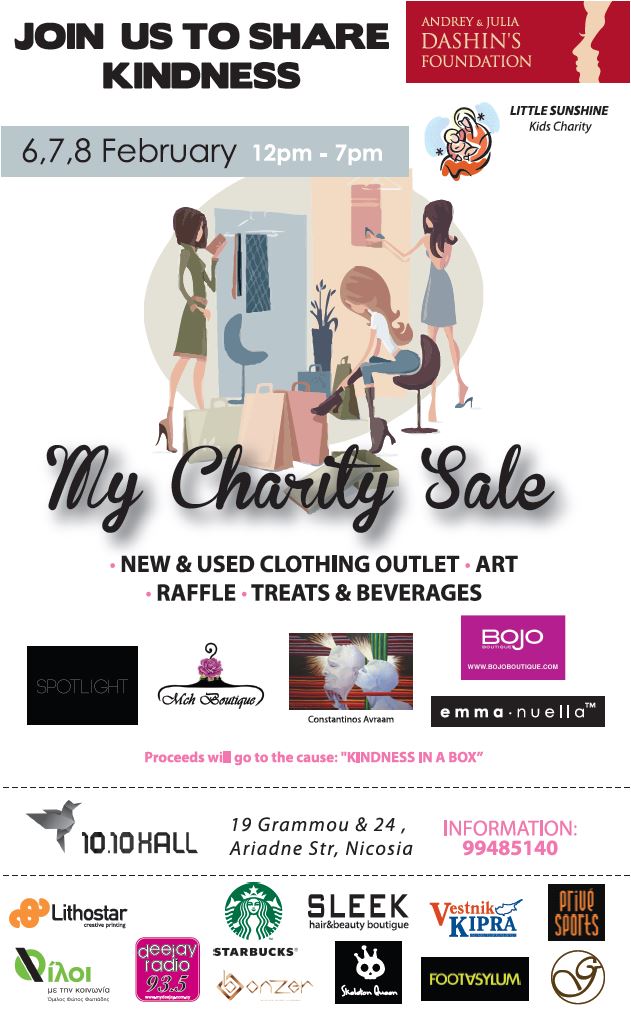 A few months ago the Foundation welcomed a generous donation from its volunteers, the "Little Sunshine" charity, which organized the "My Charity Sale" bazaar at 1010Hall in Nicosia between the 6th and 8th of February. The amazing initiative collected almost 4500 Euro in just 3 days!
The organizers have worked restlessly to collect clothes, arrange their dry-cleaning, prepare food and drink stations, arrange sale shelves and make the event happen. The net amount for the donation came to 2665 Euro and was transferred to the Andrey & Julia Dashin's Foundation for their "Kindness in a Box" charitable cause.
Among other daily requests for help, earlier that month the Foundation received a plea for help from a family with triplets in Paphos. One of the triplets, little Andriana Charalambous, who is paraplegic from birth, was in desperate need for a new special pushchair, since she had already outgrown her first one.
In September 2014, the Cyprus Mail newspaper had already made efforts to bring Andriana's story into the spotlight to help her parents collect some donations. The money collected would enable the family to purchase the new special needs stroller to help the 5 year-old girl with her development and steady route towards improvement. Today, being 6 years old, she has outgrown her old chair, which is so vital for her movement and social well-being. This new chair costs 4083.45 Euro and is absolutely out of reach for her parents to afford. The mother is a nurse and the father works shifts in the fire department.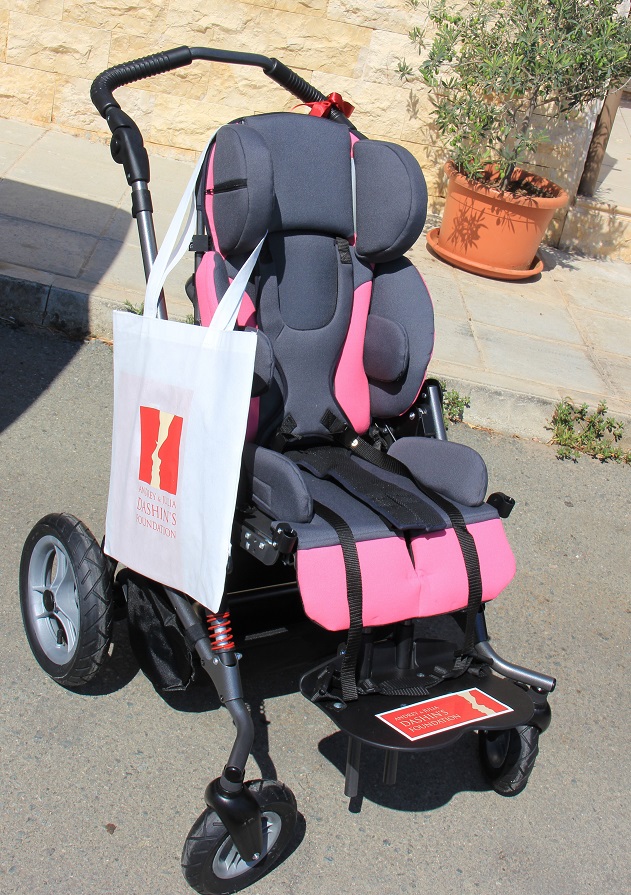 The Foundation has then decided to offer its helping hand to the family and buy the chair with the funds donated from the charity sale fundraiser, as well as its own contribution of 1,418 Euro towards this attempt.
Last month the chair finally arrived to Cyprus and was delivered by the Foundation to Paphos. It was truly remarkable to witness the happiness in little Andriana's eyes when she saw the brand new (and Pink) pushchair last Friday! Her smile and shining eyes were full of emotion and joy – an absolutely invaluable feeling for one to observe…
The Foundation cordially thanks "Little Sunshine" charity and its founder Anastasia Mina and all those who have come to donate and support the charity sale in February for their important contribution towards helping little Andriana. We believe that anyone can give – a small donation is better than nothing and it could make a huge difference in someone's life!
---